Buy upgrade license if you had bought Stockalyze Pro 2012 on or before Feb 28, 2014.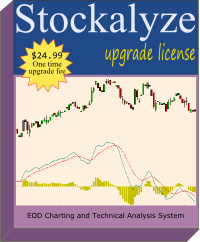 Cost: One time upgrade fee
$24.99

You will immediately be able to register the product.

If you had bought Stockalyze 2012 Professional after Feb 28, 2014 you get the license to use Stockalyze 2014 in ProMode for free. You just need to download Stockalyze 2014 and register it.

---
Secure online payments for Stockalyze is provided by
2Checkout.com, Inc.(Ohio, USA).


Privacy policy:
When you will proceed to pay you may need to provide your personal information like name, email-id, etc. We would like to assure you that your personal information will never be disclosed, sold or redistributed to anyone.
Refund policy:
Please note that Stockalyze license once sold cannot be refunded. If you are not sure you really need features available in ProMode of Stockalyze then please first try Stockalyze in LiteMode for which you don't need to pay anything.