Stockalyze Activation
---
Activation of Stockalyze
After installing Stockalyze you need to register it to use features available in ProMode. Activation is simple and fast. Just provide the information that you received after you bought Stockalyze license in the Activation dialog and click OK button.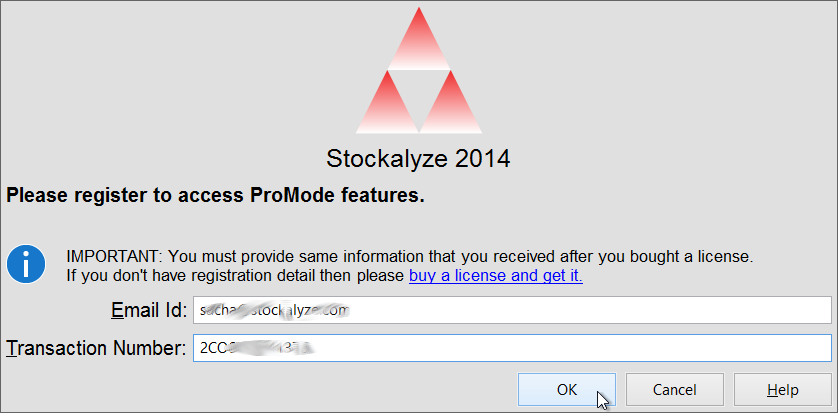 The details that this dialog seeks were displayed to you when you finished payment. Also the same details were sent to your email-id.
Once you provide correct details and click OK you will see a dialog that says the activation was successful.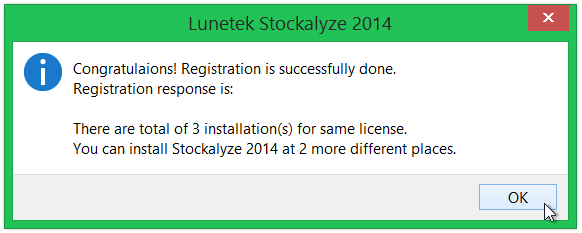 Please make sure that your computer is connected to Internet.
You can install Stockalyze Professional at 5 different machines with the same license. This facility is given to you to make it easy for you to use Stockalyze on your multiple machines and also when you upgrade/change/format your machine you do not need to buy a new license.
Activation of Stockalyze for use in LiteMode
You of Stockalyze in LiteMode does not need any activation. You can install and use Stockalyze at as many places as you want. There is nothing to register about. Stockalyze in LiteMode is absolutely free without any adware or malware. And it will always be free in future too, even when there will be new features in every new releases.
---

Stockalyze Help Manual