Security Selection Dialog
---
Security Selection Dialog is used to select a security/symbol. It appears whenever one or more security is needed. As an example when a chart needs to be created you need to provide the security whose price data will be used to create chart. If you want to backtest or scan for a trading opportunity you will need to provide a list of securities. In those cases too this dialog will appear. Below is the figure of this dialog and explanation of its each part.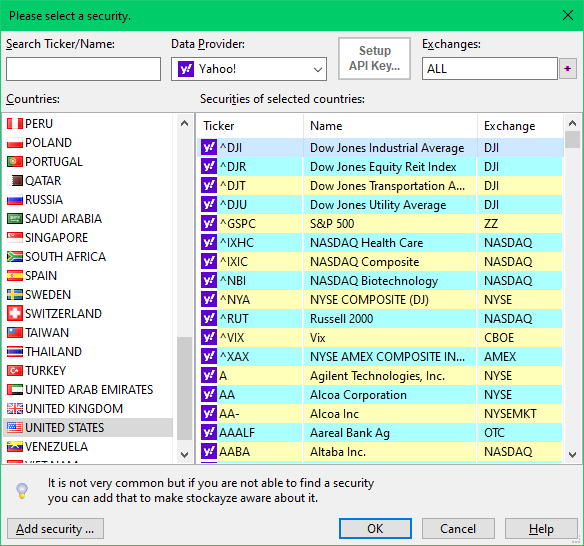 Country List
On the left side there is a list of countries whose securities are available with Stockalyze. At present there are more than 40 countries whose symbols are built-into Stockalyze. When Stockalyze is run for the first time it tries to select the most appropriate country. It can go wrong based on setup of the computer but in any case another country and also multiple countries can be selected.
Security List
Based on selected country or countries the bigger list box on right side shows the list of all securities. This list can further be changed based on search-term, data-provider, and exchanges.
Search Ticker/Name
This field can be used to search for security by its ticker/symbol or company name. Below figure shows the result when 'Microso' is written in this field. As it can be seen that only partial term is enough for getting the desired result. Search term can be starting letters of symbol or company name.

Data Provider
Stockalyze uses third party data available on internet as well as that can be present on your computer. It has built-in capability to download required data from Alphavantage, marketstack, stockdata.org, Tiingo, and Yahoo. In addition to these, Stockalyze also supports Metastock format and ASCII formats e.g. *.txt, *.csv, files.
It should be noted that not all data providers that serve data from the internet support all the data requirements. So, it is recommended to try different data providers and chose the one that best suits your need. It is certain that the data present on your computer in Metastock format or in simple text format (i.e. ASCII data) will work with Stockalyze.

Exchanges
This drop down contains the list of all exchanges from the selected countries. Below figure shows the this drop down for United States: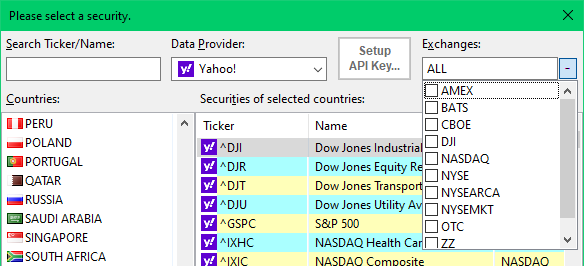 Be default 'ALL' is selected but if desired only specific exchanges can be selected. Based on which exchanges are selected the list of securities may be different. As an example this filter will be useful when multiple securities of same exchange is required for stock screener or back testing.
Above fields are all that can be used to find specific security. It may happen that few securities might not be present in the Stockalyze. That is rare but still if that is the case then new securities can be added to Stockalyze. Please refer to managing symbols for adding/removing securities.
---

Stockalyze Help Manual